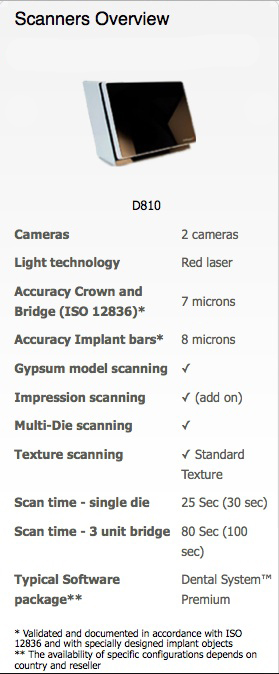 Combining accuracy and speed with Multi-Die scanning capabilities
The 3Shape D810 Dental Scanner takes labs to whole new productivity levels with high speed scanning, and ultra-efficient batch and multi-case processing capabilities.
About D810
With its new and unique Texture Scanning feature plus 5.0 megapixel cameras, 3Shape's D810 scanners wield the market's most advanced 3D scanning technologies. 3D scanning in connection with designing implant bridges and bars requires very high accuracy. 3Shape's D800 series scanners are among the few that can deliver reliable data for these indications.
Capture complete textures and pencil markings
Texture Scanning captures 2D images of the model surface and precisely overlays these on the 3D model, enhancing visualization of surface details and allowing technicians to include hand-drawn design guidance markings in the digital design.
Implant bridge and bar accuracy
3D scanning in connection with designing implant bridges and bars requires very high accuracy that few scanners can deliver. Labs all over the world are using 3Shape's D800/D810 scanners to produce implant bars and bridges of extraordinary quality. The 5.0 Megapixel cameras, in combination with high quality scan abutments, enable accurate 3D data capture of both implant positions and implant orientations to ensure a perfect tension-free fit.
Market's most extensive suite of scan indications
All standard scan indications and in addition impression scanning, post & core, 16-unit bridges, articulated antagonist model, wax-up bridges for copy milling, deep inlays, pre-preparation model, un-sectioned model for temporaries, implant position and orientation detection, wax-up customized abutment and wax-up implant bridges for copy milling. The range of available indications depends on the Dental System™ version – Standard/Premium.
High productivity with Multi-Die scanning
Dies for one or more cases are fixed to the Multi-Die plate, and scanning is automatic, freeing the technician to work with other tasks. Maximum accuracy is obtained by an obstacle-free camera angle, ultra-sharp focus, and optimal mechanical precision.