OBJET260 CONNEX™: COMPACT MULTI-MATERIAL 3D PRINTING SYSTEM
The Objet260 Connex™ is a revolution in true-product representation. The Objet260 Connex™ is an affordable, compact version of Objet's pioneering line of multi-material 3D printers. It enables designers and engineers to rapidly build prototypes to simulate their intended end-product clike no other technology currently available.

WHAT'S UNIQUE ABOUT OBJET260 CONNEX™?
The Objet260 Connex comes with a choice of over 60 different build materials. From these it can simultaneously build 14 different materials into a single model part, providing a highly accurate idea of how even complex or assembled end products will look and perform.
FREEDOM TO SELECT YOUR OWN MATERIALS
From an unrivalled range of over 60 materials, the Objet260 Connex allows users to select as many as up to 51 Digital Materials with varying mechanical properties, textures and shades simulating anything from rubber to transparency to rigid engineering plastics.

THE BEST: NOW IN A SMALLER PACKAGE
The Objet260 Connex combines Objet's outstanding 16-micron, high-resolution layer accuracy and multi-material printing with a tray size of 260 x 260 x 200 mm (10.2 x 10.2 x 7.9 inch), small enough to fit in the corner of any office. The system is small, quiet and uses easy to insert materials that come in fully-sealed REACH compliant cartridges.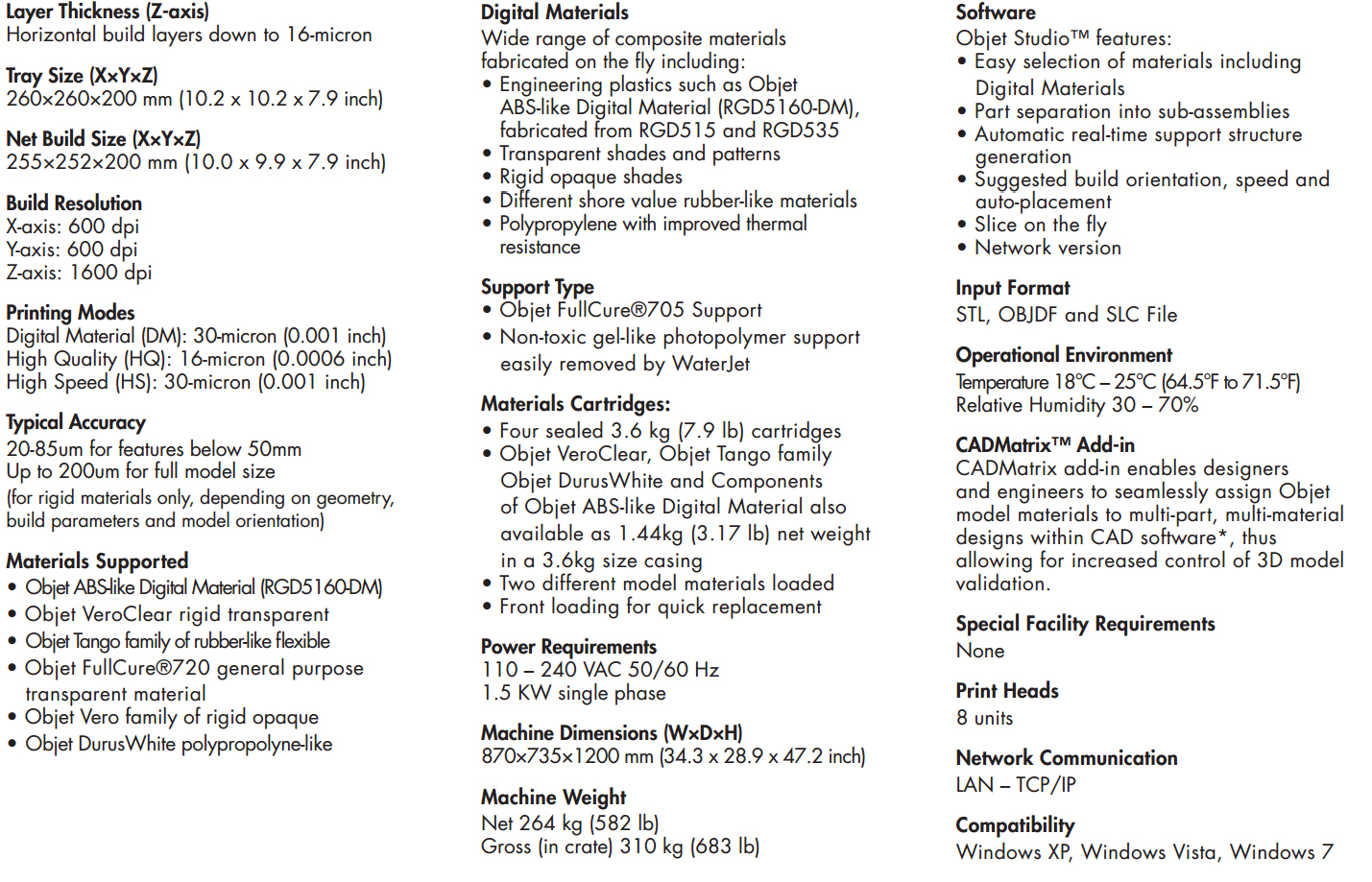 HARNESS YOUR CREATIVITY. ADVANCE YOUR BUSSINESS.