Throughput for growing labs, competitively priced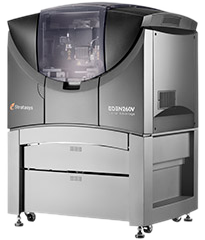 Designed for larger dental and orthodontic labs, the Objet Eden260V Dental Advantage is competitively priced to help you increase production speed and throughput by creating consistent, accurate models and appliances.
Essential Solution to Expand Your Business
The Objet Eden260V Dental Advantage is ideal for dental and orthodontic labs wanting to increase throughput by embracing digital dentistry. It builds surgical guildes, orthodontic appliances and dental models in-house, directly from digital models.

Based on clean, safe and quiet Polyjet technology, the Objet Eden260V Dental Advantage is easy to use and office-friendly.

The solution delivers more than double the build speed over our lowest-priced dental solution, in addition to a larger build tray for great throughput. It's about the size of an office copier.

Materials
Objet Eden260V Dental Advantage materials packet includes:
VeroDentPlus (MED690), a dark beige material that prints layers as fine as 16 microns to create amazingly fine features and finish, offers excellent strength, accuracy and durability.